LOOKING FOR A WAY TO GET YOUR 2017 DUES PAID FOR YOU?
Just sign up a NEW member and your dues are waived for 2017! 
The new member must indicate your name on their membership form submitted along with their payment.
Learn How...
---
ORDER your
Moen Lake Chain Pennant!



MOEN CHAIN GEAR
Proudly display the Moen Lake Chain Association logo. We have a way for you to fly it, wear it and even eat off of it!

Fishing the Chain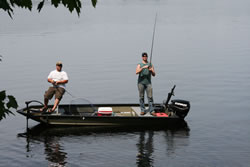 MISSION Statement

To provide association members information of concern; to represent it's members with other organizations and public officials; and to conduct such other activities as are appropriate to fish and aquatic habitat protection, maintenance, and enhancement on the Moen Lake Chain of Lakes.
---
Moen Chain Area Lake Information
Click on the lake name below then follow the links to see all of the DNR information including lake facts & figures, maps, boat landings, types of fish, fishing seasons and regulations, fish consumption advisories, and fish stocking reports.
Moen | Second | Third | Fourth | Fifth | Sunset | Ceded Territory walleye regulations
---
Fish Survey Results Data
CLICK HERE
for a collection of survey results over the years.
---
MLCA Fish Stocking & Cribs
MLCA crib discussions and activities and fish stocking history from private hatcheries can be found at  MLCA History.
Fish Cribs
For the latest information regarding activities regarding man made waterway related changes please check out this Wisconsin DNR Waterway and Wetland Permits web page with the rules.
---
Fishing Tournaments
When do you need a permit? Learn more about DNR Fishing Tournaments at DNR Regulations and Permits.
Tournament Information:
2017 Hodag Musky Challenge - Sep 22-24
2017 CHARLIE BAKER MEMORIAL MUSKY TOURNAMENT - Jun 24-25